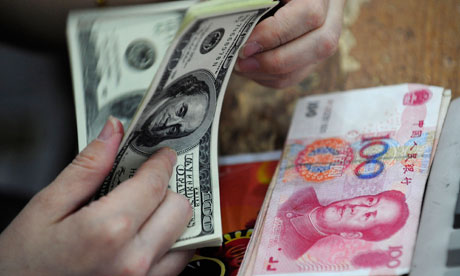 As every cloud has a silver lining, the recession and the resulting weakness in the dollar has been a boon for American manufacturers.  Exports surged 21% to $1.28 trillion in 2010, and the American manufacturing sector added jobs for the first time since 1997.
Unfortunately, as long as the renminbi (RMB) remains pegged to the dollar, weakness in the dollar is synonymous to a weak currency in China.  While the recent détente in Sino-American relations has drawn focus away from the "managed float" of the RMB, the effects of this peg are rippling through both the American and Chinese economies. Inflation is building in China as foreign exchange reserves and M2 have surged as the American-Chinese trade deficit surpassed $273 billion in 2010
Chinese exchange rate policies directly impact the competitiveness of American renewable energy manufacturers.  One underlying similarity across the multi-faceted renewable energy sector, from wind to solar to fuel cells and beyond, is that each technology is still in its nascence.  Unlike more established industries where low-cost Chinese suppliers have come to provide components or assembly to higher value-add Western manufacturers, supply chains remain flexible and American products compete directly with Chinese on both function and cost.
Chinese exchange rate policies stand as an indirect but potent support for Chinese renewable energy manufacturers.  Between 2005 and 2008, the RMB appreciated 22% from 8.28 to 6.78999 RMB/dollar after China grudgingly implemented a "managed float" while under threat of Congressional tariff on Chinese imports. In May of 2008, China quietly responded to declining exports and surging unemployment caused by the global recession by holding the RMB at approximately 6.83 RMB/dollar; the exchange rate currently hovers around 6.6 RMB/dollar after China pledged before the G20 in 2010 to enhance "flexibility" while continuing to insist that the "basis for large-scale appreciation does not exist."  Various studies (including the Economist's Big Mac index) suggest that the RMB is undervalued by 20-40%.
What does this mean for American manufacturers?  Consider the following example.  Suntech, the largest low-cost c-PV manufacturer in China, booked a 40MW order of panels at just under $2.90/watt in 2009 ($115.8 million, page 90 of Suntech's 2009 20-F).  This is well below struggling Evergreen Solar's total panel cost of $3.19/watt in Q1 2009, though well above the $2.05/watt that Evergreen had achieved by Q4 2009.  $2.90/watt also significantly exceeds industry price leader First Solar's average 2009 panel price (total 2009 sales divided by total production) of $1.88/watt.
Suntech's price position disappears when we adjust for the valuation of the RMB.  If we assume that the RMB was only 10% underappreciated in 2009, Suntech's price per watt rises to $3.1845 – all but indistinguishable from the high panel prices that have recently driven Evergreen to close manufacturing facilities in Massachusetts.  At 30%, Suntech's price per watt rises to $3.7635/watt, exceeding even the $3.70/watt of American high-efficiency monocrystalline PV manufacturer SunPower.
Even if we were to ignore the advantage Chinese renewable energy manufacturers gain from local content regulations, tax-free land grants, and low-interest financing, the prices made possible by an undervalued RMB create a difficult marketplace for American manufacturers to compete.  This is particularly troubling given the developing state of the renewable energy industry.  While supply chains are currently flexible, contracts signed today allow manufacturers to invest and retool for future expansion.  Competition between the David's of today will produce the Goliath's of tomorrow.  If President Obama truly wishes to "reinvent" the American energy landscape and double exports by 2014 as noted in his recent State of the Union, we cannot afford to ignore the exchange rate.
__
Dean Chuang is a Policy Fellow in AEL's New Energy Leaders Project and will be a regular contributor to the website. The views expressed are those of the author and do not necessarily reflect the position of AEL.