Our Team
__________________________________________________________
Note: as of February 2012, all titles indicated on this page are formerly held positions, and bios may not reflect recent changes.  Please see more about Americans for Energy Leadership joining with the Pew Charitable Trusts.
__________________________________________________________
President & Founder: Teryn Norris
Special Advisors: Jesse Jenkins, Shannon Yee
Program Director: Daniel Goldfarb
Policy Fellows:
Past Policy Fellows:
Syndey Baloue • Jeremy Cohn • Kimberly Munoz • Adam Sieff • Clifton Yin • Yan Zhu
__________________________________________________________
Teryn Norris is a technology commercialization advisor, policy analyst, and social entrepreneur. In 2014, Forbes named him one of the country's top 30 Under 30 professionals in policy and law.
Teryn was appointed by the White House in 2012 to serve as Special Assistant to U.S. Secretary of Energy Steven Chu at the Department of Energy (DOE). He now serves in the Tech to Market Office, where he advises commercialization strategy, venture financing, and manufacturing programs for DOE's $2 billion Office of Energy Efficiency & Renewable Energy (EERE).
He was previously Senior Advisor and Project Director at the Breakthrough Institute, a think tank, where he led a team of analysts to publish policy and technology analysis. In 2007, he co-authored the Obama Campaign's energy investment platform, which helped catalyze the $90 billion clean energy investment in the 2009 Recovery Act. He later founded and led a policy organization called Americans for Energy Leadership, which eventually merged with Pew Charitable Trusts.
Teryn is co-founder of the Millennial Action Project, an organization dedicated to addressing national political gridlock, which created the Bipartisan Congressional Future Caucus. He also served on the Johns Hopkins President's Task Force on Climate Change, creating a $73 million climate initiative.
Teryn is a Stanford graduate, Truman Scholar, and Rhodes Scholarship Finalist. He has appeared on national television and radio and published in Forbes, National Journal, Harvard Law & Policy Review, Huffington Post, San Francisco Chronicle, Issues in Science & Technology, Yale Environment 360, SAIS Review, and other publications. He currently lives in Washington, DC.  Twitter: @TerynNorris
Jesse Jenkins is a leading energy and climate policy analyst and advocate and serves as Director of Energy & Climate Policy at the Breakthrough Institute. He is the lead author or co-author of numerous reports including "Energy Emergence: Rebound and Backfire as Emergent Phenomena," "Where Good Technologies Come From," "Post-Partisan Power," "Strengthening Clean Energy Competitiveness," "Rising Tigers, Sleeping Giant," "Jumpstarting a Clean Energy Revolution with a National Institutes of Energy," and widely cited analysis Congressional climate change legislation. Jesse's work and analysis has been featured in Time, Newsweek, Fortune, New York Times, Wall Street Journal, Washington Post, and other major media outlets. He has appeared on National Public Radio, MSNBC, and in the pages of Forbes, Atlantic Monthly, San Francisco Chronicle, Yale Environment 360 and other publications.
Jesse previously co-directed Breakthrough Generation, the Institute's young leaders initiative, and prior to joining Breakthrough in June 2008, worked at the Renewable Northwest Project to advance the development of the Pacific Northwest's abundant renewable energy potential. He is founder and chief editor of WattHead – Energy News and Commentary and is a featured writer at theEnergyCollective.com. Jesse is a graduate of the Clark Honors College at the University of Oregon (magna cum laude), where he completed an interdisciplinary course of study in computer science, philosophy, political science & energy studies. Follow Jesse on Twitter: @JesseJenkins.
Shannon Yee is one of the nation's leading young energy scientists. He is currently a PhD student at the University of California Berkeley working in both Chemical Engineering and Mechanical Engineering to develop novel thermoelectric materials by leveraging recent discoveries in nanoscale organic-inorganic interfaces for future energy applications. He received his B.S. in Mechanical Engineering in 2007 and his M.S. in Nuclear Engineering in 2008 from The Ohio State University. In 2007, he was named a U.S. DOE Advanced Fuel Cycle Initiative (AFCI) Fellow for his work on nuclear fuel cycle dynamics and transmutation of legacy and advanced reactor fuels. In 2008, Shannon was named a Hertz Foundation Fellow, where he was first exposed to technologies transfer. In 2010, Shannon was named the first U.S. DOE Advanced Research Projects Agency Energy (ARPA-E) Fellow where he helped to shape ARPA-E during its inaugural year. While at ARPA-E, Shannon helped to grow the ARPA-E Fellow's program, suggest future funding programs, and nurture a wider national energy community. Shannon also serves on the leadership team for the Berkeley Energy Resources Collaborative (BERC), advises a biochar project funded by the Bill and Melinda Gates Foundation, and serves as a Partner and Scientific Director of Fireside Advisors. LCC, a nationwide energy technology consulting company.
__________________________________________________________
Daniel Goldfarb previously served as Policy Fellow at Americans for Energy Leadership, where he managed an energy security policy project to examine the Department of Defense's role in energy technology innovation. In summer 2008, Daniel worked for a public relations and communications firm to organize the SeaChange Ideas Forum at the 2008 Democratic Convention in Denver. Daniel graduated from Washington University in St. Louis with a double major in Political Science and English Literature and spent his junior year studying at Oxford University. At Washington University he served on the Executive Board of the Roosevelt Institution, a think tank, and published a comprehensive policy proposal for regional agricultural certification in Roosevelt's 2010 "Midwest 2.0″ journal. Daniel is trained in quantitative political analysis and served as researcher for the Democratic Institutions Research Team under Professor Brian Crisp.  The majority of his research and writing while in college dealt with the effects institutions have on decision making processes.  Throughout his life Daniel has had a passion for progressive politics and believes that clean energy policy is essential for our nation's economy, security, and health.
__________________________________________________________
Elizabeth Campbell is an Associate at FTI Consulting in Boston, MA. Previously, Elizabeth was Chief of Staff at JUCCCE (Joint US-China Collaboration on Clean Energy), where she assisted the Chairperson in organizational development. She is an award-winning public speaker, and is fluent in Mandarin. Elizabeth is a graduate of Yale University (B.A., Political Science, with distinction, 2009), Milton Academy (cum laude, 2005), and the Harvard Beijing Academy. She has been a recipient of Yale University's Frank M. Patterson Prize in Political Science, the Howard Topol Roberts Fellowship Prize, the Mellon Undergraduate Research Grant, the Yale-China Public Service Fellowship, and the Richard U. Light Fellowship. Elizabeth is from Jasper, Indiana.
David Cohen-Tanugi is a Ph.D. student at MIT in materials science & engineering.  His research there will focus on computational approaches to clean energy technology. Prior to joining MIT, David served as the China-US climate and energy policy liaison for NRDC, an environmental organization in Washington DC. In addition to a background in physics and nanomechanics, his specialties include quantitative modeling, clean energy and clean water technology, and US-China climate cooperation. David holds a degree in Physics from Princeton University and has traveled to and worked in China on numerous occasions. He has studied Mandarin since 2000 and holds a certificate in East Asian Studies from Princeton University.
Michael Craig is currently finishing his undergraduate degree at Washington University in St. Louis majoring in Environmental Studies (Biology/Ecology track) with a minor in Environmental Engineering Sciences. While at Washington University, Michael engaged in two research projects. Most recently, he has been working under the auspices of the Center for New Institutional Social Sciences to investigate to what extent three factors drive renewable energy implementation: technology, resource availability, and institutions. Previously, he also conducted ecological research under an REU grant from the National Science Foundation, quantifying and analyzing patterns of seed predation in a corridor landscape. Michael's work experiences include an internship with PennFuture, an environmental non-profit in Pennsylvania, where he organized and facilitated information sessions for citizens and examined environmental policies, among other activities. After graduating in December, Michael will intern in the Climate Change division at Oceana. In his future endeavors, he hopes to analyze and craft novel measures that mitigate climate change, promote advanced energies, and curtail biodiversity loss.
Noah Fisher currently attends Brown University, where he is pursuing a Master's degree in Environmental Studies with a focus in energy policy. His thesis, "The Race is Over: Why China has won the clean energy race as we know it, and what it means for the future of U.S. renewable energy companies," focuses on the short and long-term consequences for U.S. renewable companies in the current political environment. He graduated from Hamilton College in 2007 with a major in Public Policy and a minor in Education. He completed his undergraduate thesis for the New York State Department of Environmental Conservation on alternative green building certifications. Noah recently worked for the American Council on Renewable Energy (ACORE) as a policy and legislative analyst. At ACORE, Noah's interests expanded to include the role of the U.S. Department of Defense in scaling-up domestic use of renewable energies.
Lon Huber is currently pursuing a master's degree in business administration at the University of Arizona – where he serves on the President's Campus Sustainability Advisory Board and as the chair of the UA Green Fund. Lon is focused on creating economic opportunities for young people in energy-related fields. He is a founding member of the Southern Arizona Green Chamber of Commerce and advisory board member for Dayaway Careers, a national organization aimed at placing college students and recent graduates in clean energy careers. Lon is also committed to advancing smart energy policy on all levels of government. Lon has worked in Washington D.C. as a congressional solar energy fellow and as a policy advisor for candidates seeking public office in Arizona. After working in energy policy research for two years at the Arizona Research Institute for Solar Energy, Lon became the governmental affairs liaison for Technicians for Sustainability, an Arizona based solar energy integrator. Outside of policy, Lon works in renewable energy finance. He founded Next Phase Energy LLC, a consulting and financial modeling company. Lon holds a bachelor's degree in public policy and management from the University of Arizona.
Tim Krueger is a research assistant at Policy Matters Ohio, an economic think tank based in Cleveland. His research focuses primarily on manufacturing networks, economic transformation, and urban job creation. Using raw data on the health of U.S. automotive supply chains, he is currently working on a number of papers that outline strategies for bringing existing manufacturing networks into the green economy.
Tim has spent time in the policy world and the organizing world. In 2007 and 2008, he worked on senior staff of the Roosevelt Institute Campus Network as coordinator of Equal Justice publications. In 2009, he coordinated the Ohio Student Environmental Coalition, which helped divert millions of investment dollars from coal to cleaner energy sources in Ohio. In 2010, he founded an organization named the Urban Defense Project, which deploys new strategies for urban revitalization and brings college graduates to Cleveland.
Tim studied Government and Urban Studies in undergrad at Cornell, where he was involved in myriad journalistic and political endeavors. His six-year-old son, Luke, is an aspiring actor.
Emily McGlynn is a climate and energy policy analyst. She currently works at Ecologic Institute as a Transatlantic Fellow in Berlin, Germany, where she is an author on the EU Arctic Footprint and Policy Assessment and is a researcher on climate, energy and transport. She previously worked in the Economics of Climate Change department at the Technische Universität Berlin, where she was an author on the report "Car Industry, Road Transport and an International Emission Trading Scheme– Policy Options." This research investigated the effects and feasibility of including the transportation sector in emissions trading schemes and policy recommendations. While an undergraduate, Emily worked in a variety of environmental organizations. In partnership with US nonprofit Energy Vision, Emily successfully advocated for the use of compressed natural gas refuse trucks in Philadelphia. Emily has also served as an environmental policy analyst for PA Governor Ed Rendell and Washington DC Council member Kwame Brown. Emily is highly active in the youth climate movement and has attended UNFCCC meetings in Copenhagen, Bonn, Tianjin (virtually) and soon Cancun. She has presented in side events on her original research and on the Rio+20 conference.
Elspeth Montgomery is a recent graduate of New York University where she received a Master of Science degree in Global Affairs, concentrating in Energy Policy and the Environment. As a research assistant at NYU, she studied petroleum initiatives within emerging economies and the association between natural resource development and subsequent geopolitical shifts within Central Asia. She assisted in the formation of the Comparative Energy Politics course within the M.S. program and served as the TA, traveling with students to Fort McMurray, Canada to study oil sands development. Concurrently, Elspeth researched and transcribed international news stories airing on PBS as a Research and Production Associate at the Bureau for International Reporting. In 2006, she was the Program Assistant at the NGO Working Group on Women, Peace and Security where she advocated for the in-country implementation of SCR 1325 at United Nations headquarters and with the OSCE in Kyrgyzstan. Elspeth completed her undergraduate work at the University of Colorado at Boulder in International Affairs and Political Science. Hailing from the energy-abundant states of West Virginia and Texas, her educational and professional experiences have advanced a passion for energy research, writing and policy analysis.
McKenna Morrigan is a graduate student at the Evans School of Public Affairs at the University of Washington, where she is pursuing a master's degree focusing on environmental and energy policy. She is also a National Environmental Management Studies Fellow at the U.S. EPA in Seattle, where she supports the West Coast Climate and Materials Management Forum, a platform for Western government stakeholders to identify strategic actions to reduce climate impacts through waste prevention, materials diversion and sustainable consumption. McKenna has conducted research on clean energy and energy efficiency policy issues for several leading regional organizations, including Northwest Sustainable Energy for Economic Development and the Northwest Energy Coalition. Before returning to her native Northwest, McKenna served as the public engagement manager for Public Agenda in New York City, where she helped communities across the country engage diverse constituents in productive deliberation on complex public issues. While at Public Agenda, she co-authored a report on the perception gaps between leaders and the public on energy issues. McKenna received her bachelor's degree from Brown University in 2004 and spent a year studying and working in Southwest China.
Laurie Nijaki is currently a Provost Fellow at the University of Southern California. Her research, recently published by the American Planning Association and forthcoming by Oxford University Press, focuses on the nexus between economic development and environmental policy. In 2009, Laurie was appointed "special consultant on green jobs" for the State of California. As an expert on the green economy, she advises the Employment Development Department on workforce development research.
Laurie previously worked as a policy analyst for Environmental Defense Fund. At EDF, she exclusively managed the implementation of a groundbreaking $500 million community benefits agreement related to the Los Angeles Airport Master Plan. Additionally, her work at EDF also focused on the green economy, where she worked with Liberty Hill Foundation's GREEN LA group to organize and lead a green economy coalition that contributed to the passage of both the City of Los Angeles Green Procurement Policy and the Green Business Certification Program. Recently, Laurie was named the 2010 WTS Eno Transportation Foundation Fellow, earned the 2009 Womens Transportation Seminar (WTS) award, and was named a UCLA Extension 2010 UCLA Land Use Planning and Law Scholar. Laurie has written for a wide variety of newspapers in the Los Angeles area.
Laurie earned her master's degree in urban planning from UCLA, where she received the Erin Brockovich Fellowship in Environmental Justice.  She is currently pursuing a doctoral degree in policy, planning and development. She graduated summa cum laude with a bachelor's degree in political science from California State University Los Angeles' Early Entrance Program–where she began college as a full time student at the age of 14.
Dan O'Connor is currently pursuing a Master of Science degree in Mechanical Engineering and a Certificate in Energy Analysis and Policy at the University of Wisconsin-Madison. He is also working as a contractor for the Research and Technology Unit of Westinghouse Electric Company to develop a systematic approach to identifying disruptive technologies in the nuclear industry. Dan graduated from the College of the Holy Cross in Worcester, MA with a degree in Physics and spent his junior year at Oxford University. He lived in Southeast Asia for one year after college, where he was struck by the visible correlation between energy technology / policy and standards of living. Upon returning to the US, Dan briefly worked for a management consulting firm near Washington, DC. He returned to school to strengthen his technical qualifications in the hopes of eventually informing national or international energy policy. Dan hails from Albany, NY and enjoys a cool beverage over a cutthroat backgammon match.
Eli Pollak is a senior at Stanford University majoring in Atmosphere/Energy Engineering. He is a recipient of the Mayfield Fellowship, the university's top entrepreneurial fellowship program. He previously worked with the Senate Foreign Relations Committee, where he helped to draft the International Climate Investment Act of 2009. Over the past two years, he has conducted research on a diverse range of energy topics including materials science research to develop more efficient thin film solar cells, research on entrepreneurship at top Chinese universities, and topics in building efficiency. Contact: Email
Clare Sierawski is a Master's student at Princeton University's Woodrow Wilson School (WWS) of Public and International Affairs. Clare spent the last two years as the Special Assistant to the U.S. Special Envoy for Climate Change, Todd Stern. In this position, she worked on the international climate negotiations, including COP15 in Copenhagen, and various bilateral and multilateral initiatives, with a particular focus on developing bilateral cooperation with China. Clare began working on climate change as an undergraduate at the University of Pittsburgh where she majored in Environmental Studies, Political Science, and Chinese. She spent her senior year in China doing primary research on Chinese environmental NGOs. After receiving her undergraduate degree, Clare worked at the U.S. Department of Transportation on climate change policy, followed by a year of traveling in which she volunteered at a afforestation project in India, hiked and took a course in sustainability in Tasmania, and worked for Conservation International in its Beijing office.
Alex Trembath is a senior at U.C. Berkeley, studying Environmental Economics and Policy with a focus on energy issues through the Energy and Resources Collaborative. He is involved with Cal Democrats, California Lightweight Crew, and the undergraduate Berkeley Energy and Resources Group (BERC). He previously interned in the San Francisco Mayor's Office, working on clean tech business development in the Office of Climate Protection Initiatives. During his time there, Alex was instrumental in compiling a database of clean tech companies in San Francisco and creating a report on clean tech development strategies in use around the country. In his capacity at City Hall, Alex also acted as Online Outreach Coordinator for San Francisco's livable cities initiative Sunday Streets, which recently finished its third successful year. Alex interned with Students for Gavin Newsom, eventually becoming the SFGN Chapter Director at UC Berkeley during the Mayor's brief campaign for governor. On his blog, Energetics, Alex discusses energy policy and politics. His writings have been featured on WattHead, the Breakthrough Generation Blog, and the Americans for Energy Leadershop Blog. He also works with other undergrads, business students and law students on the Berkeley Energy and Resources Collaborative blog. Alex is most interested in technology policy, energy poverty, and energy education. He is a proud son of South Bend, Indiana, and has lived in San Francisco for the last 10 years.
__________________________________________________________
Matthew Allen currently acts as a business consultant at the German American Chamber of Commerce, Inc. in New York. His position is part an initiative of the German government called the Transatlantic Climate Bridge. He supports German and American sustainable energy companies expand their markets and establish new business relationships. Matthew also organizes events to raise awareness of energy business, technology and policy, such as the German American Energy Conference in Washington, DC. Matthew holds a physics degree from Clemson University and participated in a Fulbright program in Augsburg, Germany in 2007-08. In Germany, his work focused primarily on energy storage technologies and the resource flows of rare metals used in the solar industry.
Alex Christensen is a senior at Washington University in St. Louis studying economics, political science, and institutional social analysis. He is currently conducting research on comparative energy policy in the Center for New Institutional Social Sciences, focusing on the interaction of government institutions and wind energy in Denmark and Ireland. He has experience in quantitative political and economic analysis. At Washington University, he is the student fund manager of the Student Sustainability Fund, a member of Student Union Senate all four years, and a member of Controversy and Coffee – a group that holds intellectual discussions and debates on current events. Previously, he has been a content contributor to Simple Good and Tasty, a blog that promotes sustainable and local foods in the Minneapolis-St. Paul area. Alex also previously worked with Target Corporation on strategy, merchandising, and supply chain management. Originally from Minneapolis, Alex enjoys food, cooking, and playing bass guitar.
Cory Connolly graduated with honors from James Madison College at Michigan State University where he received a degree in International Relations with a specialization in Environmental Economics and Policy and a specialization in Latin American and Caribbean Studies. While at Michigan State, Cory was an active member of the Roosevelt Institute Campus Network as a campus center director, a member of the National Student Advisory Board, and as a Senior Fellow for Energy and the Environment. With Roosevelt his written work included research on wind energy production, feed-in tariff legislation, energy efficiency incentives, and community energy. Additionally, he provided policy ideas and recommendations for officials from the city and state government and had the unique experience of co-authoring a report and presentation for the White House. In the summer of 2009 Cory interned in the Policy Leadership Division at the US Department of State where he researched climate policy options and helped prepare an interagency seminar on climate change for US government officials. After graduation Cory spent three months working on carbon offset project development as an intern with the NGO Fundacion Biosfera in La Plata, Argentina. Cory turned in his final report at Fundacion Biosfera and travelled by bus through Argentina, Chile, Bolivia, Peru, Ecuador, and Colombia. The trip culminated with two weeks in Cancun for the United Nations Climate Change negotiations as a member of Fundacion Biosfera's two person delegation. Cory currently resides in beautiful northern Michigan and loves NPR tiny-desk concerts, college basketball, and travelling.
Jeremy Dommu is a 2nd year Global MBA Student at the George Washington University School of Business concentrating on Environmental Management and Policy. He is the Vice President of the GW Energy Group and the Chair of Environmental Initiatives for GW's Net Impact organization. Jeremy is a Certified Public Accountant and has five years of experience in finance and accounting with the Reznick Group and PricewaterhouseCoopers. Currently, Jeremy is leading an effort at GW, in partnership with Cleantech U, to create a launchpad for clean technology innovators in by creating inter-disciplinary programming, courses, and consulting projects that pair student teams with local entrepreneurs to work through the challenges of commercialization. Jeremy worked as an Environmental Defense Fund Climate Corps fellow this past summer where he made the business case for sustainability by identifying, analyzing, and recommending energy efficiency projects to PHH Arval, that collectively would save the organization over $400,000 per year, and reduce annual GHG emissions by over 1,500 metric tons annually. Jeremy has earned a certificate in greenhouse gas accounting from the Greenhouse Gas Management Institute and is pursuing accreditation as a LEED Green Associate. Upon Graduation in May 2011, Jeremy hopes to continue working on the financial side of clean technology and climate change solutions.
Duncan Gromko is a masters student at Johns Hopkins University's School for Advanced International Studies, where his concentration is Energy, Resources and Environment. From 2008 until May 2010, Duncan was in Morocco, serving in the Peace Corps. He worked with the Ministry of Energy and Mines to promote energy efficient stoves. Duncan graduated from Swarthmore College in 2007, where he majored in Political Science.
.
.
Emily Grubert is an MS student in Environmental and Water Resources Engineering at The University of Texas at Austin. Her main research focus is on the effect of energy policy choices on other resources, particularly water and land. She has written on the water impacts associated with coal versus natural gas, the environmental impacts of coal-fired carbon capture power projects, recent dramatic downward revisions of coal reserves estimates, and the case for nuclear power versus coal in South Africa. Grubert is currently researching freshwater allocation for energy and other land use choices on Maui Island, Hawaii. She holds an MA in Energy and Earth Resources from UT Austin and a BS in Atmosphere/Energy Engineering and Mathematics from Stanford University.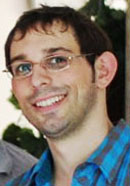 Kerry Harwin graduated cum laude from Amherst College in 2005, where he studied European literature, history, and politics. He then went on to work with a boutique energy law firm in Washington DC, primarily focusing on arbitrations regarding small rural energy cooperatives. He then moved to the United States House of Representatives, followed by the United States Senate, where he worked in Energy and Environmental policy for Senator Ron Wyden. In 2008 Kerry left the Senate to pursue a MA in Development Studies from the Tata Institute of Social Sciences in Mumbai, India. He completed his master's thesis on remote rural electrification using distributed solar photovoltaic generation, with a focus on the Sunderban Island region of West Bengal. Kerry graduated from his master's program in 2010, and his thesis was selected as the best of his graduating class. Following graduation, he went to work with Except, a small Dutch sustainability consulting firm, on the development of an online green investment platform with. He continues his affiliation with Except, and has returned to Mumbai.
Chris Head is a Masters candidate at the Fletcher School of Law and Diplomacy at Tufts University, where he focuses on international energy policy and public international law. Since coming to Fletcher, Chris has worked for the California Commission on Science and Technology on their report "California's Energy Future," which explores the technological possibilities for a low carbon future. He is currently working on a report for the United Nations Environmental Program on renewable energy, fuels, and climate change. In addition to his work with American's for Energy Leadership, Chris is also the Showcase Director for the 2011 Tufts Energy Conference, charged with bringing the most innovative and game-changing clean tech start-ups in New England to campus. He is currently working on a project for a low carbon hydrofracking water processing plant for this year's MIT 100k entrepreneurship competition. Before coming to Boston, Chris worked as a biologist in a biotech startup in Austin, in addition to prolonged travels in Central and South America. He is a graduate of the University of Texas, Austin, with a double major in Biology and History.
Sam Lederer graduated from Dartmouth College in 2005 with a Bachelor of Arts Degree in Art History and English. After graduation, he taught English in Kawane Town, Shizuoka Prefecture on The Japan Exchange & Teaching (JET) Program for two years. In 2010, he completed a Japan Studies Master of Arts in International Studies degree at the Henry M. Jackson School of International Studies at the University of Washington (Seattle). At the University of Washington, Sam conducted research on Japan's market support policies for solar photovoltaic (PV) cell development and deployment, Japan's geothermal power plant industry and local-level international environmental cooperation in the Asia-Pacific region. He participated in the inaugural Japan Foundation Center for Global Partnership Japan Travel Program for Future U.S. Leaders, on which he traveled to Tokyo to conduct interviews with government officials and business leaders in support of his research on solar PV cells. He also completed a certificate in Global Trade, Transportation, and Logistics (GTTL) at the University of Washington. In his free time, Sam enjoys traveling, hiking, live music and art.
David Livingston is a Junior Fellow in the Energy and Climate Program at the Carnegie Endowment for International Peace, in Washington D.C. David graduated summa cum laude from the School of International Relations (SIR) at the University of Southern California, where he was a George H. Mayr Scholar and a member of the Order of the Laurel and Palm. He received the school's David J. Andrus Award for efforts to promote justice and peace, along with the SIR Exceptional Student Award for highest GPA. His senior research paper on Russian climate diplomacy took first place at the USC Undergraduate Writing Symposium, and he has also published work in the Journal of Undergraduate International Studies. David traveled to Honduras twice for development work as President of USC Microfinance Brigades and during the summer of 2008 spent a month in India working on a water filtration project with a grant from the Deshpande Foundation. He previously worked in the office of California Assemblywoman Noreen Evans, and is a member of the World Affairs Council of Northern California. David spent his junior year abroad in Paris, and speaks Spanish, French, and some Russian.
Ari Peskoe is a third-year student at Harvard Law School. His research interests include electricity policy and energy transitions. He has recently written papers about national transmission policy and Minnesota's development model for community wind farms and is working on a project about how national electricity policy can build institutional capacity at the state and local levels. Ari graduated from the University of Pennsylvania in 2003 with degrees in electrical engineering and business. He previously worked at NYC2012, the organization leading New York City's bid for the 2012 Olympic Games, where he provided research, editing, and logistical support on a variety of projects. Prior to starting law school, Ari taught computer literacy at a government high school in Ghana as a Peace Corps Volunteer.
Natalie Relich graduated from the University of Michigan in 2009 with a degree in Public Policy, focusing on environmental policy and sustainable development. During the summer of 2008, Natalie worked with the Northeast- Midwest Institute, a nonpartisan research organization in Washington D.C, researching both federal climate legislation and the state of watershed management in different regions of the country. After graduating, Natalie moved to China to teach English to college students in Shandong Province. Her experience in China has given Natalie a broader and more international outlook on environmental issues. Now, back in America, Natalie is excited to work with AEL towards a more progressive energy policy agenda. She plans to attend graduate school next fall to earn a Master's in Public Policy.
Andrew Schlossberg is currently a senior at the University of Pennsylvania majoring in Political Science and minoring in Economics and European Studies. As an intern for the EU lobbying firm Alber & Geiger last fall while studying abroad in Belgium, he wrote various op-eds and memos, particularly on the US-EU partnership in renewable energy research. During the summer of 2009, Andrew worked for Fontheim International, a policy consulting firm, where he interacted with both public servants and private clients in an effort to pursue comprehensive trade and climate change legislation. Currently, Andrew is writing a senior honors thesis on the military dimensions of post-Cold War US oil policy and its impact on energy security. He is looking forward to working with Americans for Energy Leadership. Contact: schl@sas.upenn.edu
Nishant Shah recently graduated with a Master's in International Affairs from Columbia University's School of International & Public Affairs, where he studied Energy and Environmental Policy. He is currently on the founding team of a technology startup, and in the past has worked with the Acumen Fund in Pakistan, with the New York City Department of Parks and Recreation as a solar energy consultant, in corporate strategy at the Global Business Coalition on HIV/AIDS, TB and Malaria, and as an Indicorps fellow based in Surat, India working with migrant diamond workers. His interests skirt the intersection between energy policy, foreign affairs, sustainability, and entrepreneurship. Nishant received his Bachelor's from Boston University, where he studied International Relations and Biology.
Tucker Willsie is a senior at the Princeton University Woodrow Wilson School of Public and International Affairs. His focus is on domestic renewable energy policy, and he is writing his senior thesis on policy options for promoting innovation and international competitiveness in the renewable energy sector. Tucker has written papers on the efficacy of Energy Innovation Hubs and ARPA-E, and has travelled to Germany to research the German feed-in tariff program. In addition to his academic work, Tucker has developed and competed with a business plan that aims to dramatically increase the number of people who are able to invest in solar panels. Tucker is also a cofounder of the Food Justice Foundation, a non profit that creates low cost buyers co-ops to make fresh produce available in inner cities such as Trenton and Newark, NJ. He is particularly interested in looking for ways that an investment in renewable energy in the U.S. can be used to support economically depressed areas of the United States.
Heming Yip is a third year student in Atmosphere/Energy Engineering at Stanford University. Having lived in the US, China, and Belgium, Heming is interested in global and Sino-American cooperation on clean energy and climate change mitigation/adaptation. Last summer, Heming did research at Tsinghua University in Beijing, China, where he co-authored a paper on "Real Options Theory and Investment Strategy for Carbon Capture and Sequestration Technology," analyzing the impact of market and policy uncertainty on the deployment of CCS for new coal-fired power plants. While at Tsinghua, Heming also worked in a lab that researches heavy metals in incinerator fly ash. Previously, he was advisor for climate and energy policy to Kai Stinchcombe's campaign for California State Assembly. Starting in January, Heming will intern at the Department of Energy's Office of Energy Efficiency and Renewable Energy in Washington DC.
__________________________________________________________
Sydney Baloue is a senior at the University of Pennsylvania, where she is a Political Science major with minors in French Studies and Africana Studies. In summer 2009 she interned for Senator Burris (D-IL) in Washington, DC through the Congressional Black Caucus Foundation, where she worked with the office's energy and environmental legislative assistants. She wrote briefs on energy policy and technology, attended Congressional hearings and lobby meetings, and observed the debate and passage of the Waxman-Markey American Clean Energy & Security Act. At Penn she works with the Penn Democrats and in 2008 she worked to advance the Obama Campaign on her campus and around Philadelphia. Sydney is interested in public policy as it relates to alternative energy research, and she hopes to pursue a public policy degree after graduation. She recently finished studying abroad for a full academic year in Paris and is nearly fluent in French. Sydney plays the alto saxophone in a ska band at Penn and is learning to play the guitar.
Jeremy Cohn recently graduated from Stanford University with a major in Public Policy and a concentration in energy and technology policy. As a sophomore, Jeremy focused on energy development while working for the domestic policy branch of the Smith Richardson Foundation. In 2008, he worked as an organizer for his Representative's reelection campaign in Connecticut. In summer 2009, Jeremy worked as a research assistant at Stanford University studying the global uranium enrichment market, the nuclear fuel cycle, and the privatization of the U.S. uranium enrichment enterprise. During his senior year Jeremy researched intergovernmental cooperation at Environmental Protection Agency nuclear Superfund cleanup sites, as well as the economics behind the California nuclear moratorium. Jeremy has been a longtime proponent of responsible energy development, diversification, and education, and he is looking forward to working with Americans for Energy Leadership.
Kimberly Munoz recently graduated from Claremont McKenna College with a degree in Philosophy, Politics and Economics, where she was an Edward J. Sexton fellow and graduated cum laude. She previously worked in Washington, DC as a Lloyd Meeds Policy Fellow at K&L Gates, a leading U.S. and international law firm, where she researched alternative energy companies, energy tax subsidies, and nuclear regulation, and she developed a guide to the 111th Congress and Energy Secretary appointment. Kimberly previously worked for Ashoka in Mexico City and Infosys Technologies in Bangalore, India. Her marketing experience includes Director of the Web Advisory Committee for the Claremont Democrats, Director of Social Media Promotion for CMC Information Technology, and other capacities, and she wrote her senior thesis on trends in marketing and outreach. Kim is a Southern Californian native who lived in the Colorado Desert during the 2000 California Energy Crisis.
Adam Sieff is a senior at Columbia University majoring in political philosophy and international politics. He is Editor in Chief of the journal Publius, contributor to the Columbia Daily Spectator, columnist for Politicizer, delegate to the Ivy Council, and previously served as Co-Coordinator for the Obama Campaign at Columbia. Adam previously worked as a Legislative Intern in Congress, and last summer he worked as a federal policy analyst for the Mayor of Los Angeles. In this capacity, he developed and advanced federal legislation to secure $45 million for the city pension fund and advocated for the city before Congressional and White House staff, including a Clean Tech Corridor project. As a field organizer with Obama for America, Adam developed a successful initiative to register hundreds of college students in key swing-states. Adam was recently awarded the Edwin Robbins Research Fellowship by Columbia's Political Science Department, and his commentary has appeared in several undergraduate journals, the Los Angeles Daily News, and the New York Times. Adam recently represented the U.S. at an international business and policy conference at the Warsaw School of Economics. He is currently working on a senior thesis in international political theory, and plans to pursue a postgraduate degree in international legal theory before attending law school.
Clifton Yin currently attends the Georgetown Public Policy Institute, where he is pursuing a Master of Public Policy degree, Environmental and Regulatory Policy Track. He is a graduate of Claremont McKenna College, where he majored in Government and History. He previously worked at the Bovée Company, a political fundraising firm, and the California State Assembly, serving as a Jesse M. Unruh Fellow and then Legislative Assistant for Assemblyman Bob Huff. In the latter capacity, Clifton staffed the assemblyman on issues pertaining to energy and the environment, among other policy areas. Clifton was the youngest Asian-American delegate to the 2008 Republican National Convention. Most recently, he conducted research on geo-engineering for climate change mitigation as an intern at the American Enterprise Institute. Born in San Jose, California, Clifton spent much of his childhood in Beijing and Taipei, Taiwan, where he graduated from high school. A political junkie and avid Star Wars fan, in his free time Clifton enjoys eating, traveling, writing on contemporary political issues as a blogger for FrumForum.com, and waxing nostalgically about Taiwan.
Yan Zhu graduated from the University of California Berkeley in May 2010 with a Master's Degree in Public Policy, and she previously graduated from Beijing Foreign Studies University with Dual-Bachelor's Degrees in International Economics and Trade, and English and International Studies. Originally from China, Yan's interests include energy efficiency, renewable energy, environmental policy, financial management, and business development. At UC Berkeley, Yan was very active in the International Public Policy Group and has been constantly enhancing her problem-solving skills by analyzing global issues through a public policy lens. Yan previously worked with a senior economist at the World Bank as a consultant in the Development Economics Research Group, Finance Team, and also worked for Alameda County Office of Acquisition Policy as a Policy Consultant to evaluate the impact of the Small, Local and Emerging Business Program on Alameda County from cost and employment perspectives. Yan is currently working with the California Public Utilities Commission on a research paper exploring the appropriate government role in electric vehicle infrastructure development, and evaluating financing models for public charging infrastructure in California.
__________________________________________________________
T.J. Augustine (Adviser) recently completed a Ph.D. in Bioinorganic Chemistry from Stanford University, where he was a John Stauffer Stanford Graduate Fellow, and previously graduated from the University of Illinois at Urbana-Champaign with a degree in Chemistry. His research focused on enzymes that catalyze reactions important to generating carbon free energy. He has published articles in a variety of scholarly journals, including the Journal of the American Chemical Society, Biochemistry, and Dalton Transactions, and has also presented his research at several national conferences. T.J. is now working to bridge the gap between science and policy. He is obtaining a Master's Degree in Public Policy from Stanford, as well as leading the development of a science and technology policy curriculum within the Public Policy Program. In addition to working with Americans for Energy Leadership, he is founding the Stanford chapter of Scientists and Engineers for America, a group dedicated to promoting debate of science and policy related issues and encouraging those with scientific backgrounds to become in engaged in the political process. T.J has worked as a volunteer with the Obama campaign and been active in California politics. Contact: Email
---